Product Description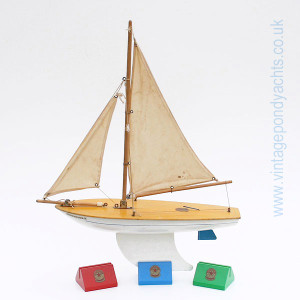 Original Star Yacht stands are very rare, they were always fairly crude in finish and only ever sold in very limited numbers as a way of displaying what were, essentially, toy sailing boats. These, in contrast, are made in hardwood, very highly finished and finally clear lacquered in order to protect the original Star Yacht deck transfer.
They are the perfect way of displaying your treasured Star Yacht.
This small sized stand is suitable for the following variants:
SY/0 – SY/1 – SY/2 – SY/3 – SY/4
MK/1 "Endeavour I" – MK/2 "Endeavour II" – MK/3 "Endeavour III"
(The SY/4 and MK/3 are the crossover point in terms of model size and equally suited to either the small or medium sized stands).
To give an idea of size, the display yacht in the above image (not included) is an MK/2 "Endeavour II".
Please note: The stand slot size, into which the yacht keel fits, measures approximately 2.7mm and, given the variation in the thickness of steel used on the various models produced, as with the originals it may necessitate the simple packing with card or paper to ensure that the model is held securely within the stand.
Full instructions are included.
See also:    The History of Star Yachts of Birkenhead.
See also:  Star Yachts of Birkenhead 1935 Catalogue.