Product Description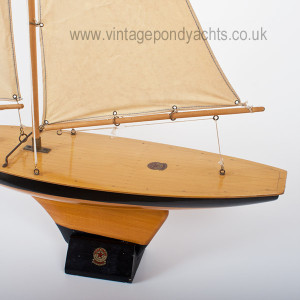 This particular Star Yacht, the BR/2 (Bermuda Rig) "Meteorite" is the smallest of their superior, lead keeled range.  These "racing models" are described in an original catalogue:
"The construction is entirely by hand, carried out by craftsmen of long experience. All metal fittings are of solid brass, the sails are of finest quality waxed cambric, taped for re-inforcement, whilst for the hulls and keels only selected seasoned timber is used.
The BR range is golden varnished to reveal the natural grain of the timber and is enamelled in various colours above the waterline, the leaded portion of the keel being painted to match…"
"Meteorite" is approximately 58cm (22.75″) long and stands 81cm (31.75″) tall.

We rarely see these larger Star Yachts in such superb original condition and they're becoming increasingly collectable…
As with all our vintage items we are more than happy to supply any additional images that you may require, we try very hard to provide honest and accurate descriptions of products and should you need any further information, please don't hesitate to contact me.